Recycling
Conestoga College is committed to taking action in responsible management of waste. Focusing on the hierarchy of the 3R's; reducing, reusing, recycling brings us closer to reaching our sustainability goals to reduce our negative impacts on our built and natural environment.
As the College continues to grow, so does its waste footprint. But with diligent effort by all we can reduce our individual contribution; the average Canadian produces 777kg of waste per year, which is one of the highest ranked spots according to the Organization for Economic Co-operation and Development (OECD).
In 2013, the average individuals' waste footprint at the college amounted to about 24 kg over the year. We have a goal of reaching the 60% diversion rate established by the Ministry of the Environment, and we aim to do this by applying the following: Continued monitoring and adaptation of the diversion programs in place, ongoing education and promotion of these programs, along with commitment to ongoing research into waste reduction practices.
Knowing which materials can be diverted, and where to find the appropriate waste stream bins are the first step you can take to help us reach our goal. We provide sorting bins throughout the college to help you sort as much of your waste and reduce our contribution to the landfill.
The current waste diversion streams available to all at the College are: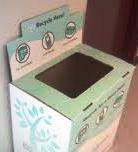 Bottles and Containers Recycling: Plastic/Glass/Metal
Paper Recycling
Organic composting
Battery Recycling(LRC, CSI Self Serve)
Small Electronics Recycling (cell phones, inkjet cartridges, toner cartridges, digital cameras, iPods and MP3 players (LRC, CSI Self Serve)
A list of Acceptable and Not-Acceptable items in each of these streams, as well as locations and types of collection bins available throughout the college can be found here:

Bottles and Containers Recycling
Acceptable
Aluminum cans
Steel cans
Unbroken glass of any color
Plastic bottles and containers with a number 1-5
and 6 rigid containers and lids only
Not Acceptable
Styrofoam
Bags
Plastic packaging or wrapping
Plastic with a number 7
Paper Recycling
Acceptable
White/colored paper
White/colored envelopes with windows
Booklets/manuals
Fax/telex copy paper
Greeting cards
Adding machine tape
Post-It notes
Soft covered books with white pages
Manila folders
Magazines
Newspapers
Telephone directories
Brown/golden kraft envelopes
Not Acceptable
Paper with food waste on it
Pizza boxes
Lunch bags
Coffee cups
Cellophane (candy wrappers)
Tissues
Paper towels
Carbon paper
Organic Composting
Acceptable
All food scraps
Coffee cups (paper, no lids)
Cotton balls
Facial tissues
Nut shells
Paper napkins
Sugar and sweetener packets
tea bags (except Lipton pyramid tea bags)
Tissues
Toothpicks (wood)
Food soiled paper (bags, plates)
Not Acceptable
Plastic of any kind
Paper that can be recycled instead
Glass
Metal
The college provides internal diversion programs for:
OCC
E-waste
Ink Toner and Cartridges
CFL Light bulbs
Confidential Paper
Post-consumer Kitchen Grease
Wood Pallets
Hazardous Oil
Power tool batteries
Construction Material
Sawdust
Wood Scrap
Steel/Metal Scrap
Books
Furniture
Donations of all useable products such as machinery and equipment, refurbished PC's, etc.
Additional student accessible collection programs are: