Donor Impact Stories
Thanks to your generosity, we're able to provide students with new opportunities and support on the path to successful careers. Your donations contribute to the development of our programs, improvement of our facilities and make a difference in the lives of many students.
Every donor has a story; learn more about some of our donors below.
The perfect fit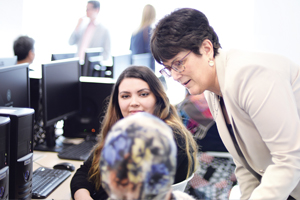 TMCC Language Lab helps newcomers transition to new lives
Three years ago, Silvia Nikolova was a new Canadian immigrant with two young children, limited English skills and no place to turn for support.
"We lived in Oakville for the first two years and they didn't offer English classes with daycare, which made it impossible for me," she remembers. Educated in Bulgaria as both a nurse and a social worker, Silvia's days were now devoted to caring for her one-year-old son and six-year-old daughter, while her husband retrained at the local college.
Finding an English language program and getting to know her new community were her top priorities.
In 2018, after a move to Waterloo, Silvia found the perfect fit: Conestoga College's Language Instruction for Newcomers to Canada (LINC) program, offered in the new Toyota Motor Manufacturing Canada (TMMC) Language Technology Lab on the John W. Tibbits campus. A cornerstone of the newly redeveloped and expanded Waterloo campus, the lab is named in recognition of a $100,000 leadership gift from TMMC.
"The Learning Technology Lab at Conestoga is a direct reflection of TMMC's values, including our respect for individuals and our commitment to both workplace diversity and continuous improvement," said Stephanie Pollard, TMMC's vice president of administration. "We are very pleased to invest in this initiative, which will play an essential role in supporting newcomers and contributing to the future of our community."
In addition to language skills, LINC offers participants the opportunity to improve their computer literacy, research and job search skills as they transition to new lives in Canada. Equally important for parents like Silvia, the program includes free child-minding and transportation services thanks to support provided through Immigration, Refugees and Citizenship Canada.
"Language is the most important thing to learn when you move somewhere new," she says. "Being an immigrant is frightening and intimidating. Without support, encouragement and language skills, it's easy to become isolated and depressed."
She credits LINC and the TMMC lab with giving her the solid start she desperately needed.
"Every day for nine months I stepped inside an amazing, up-to-date lab and said to myself, "'Someone wants me to succeed.' It encouraged me and motivated me to believe in myself and work hard so I could give back."
A LINC participant since September 2018, she now feels confident and ready to take on her next challenge — quite possibly as a Conestoga student.
"I'm ready to fly!" she says with a smile.
All in the Family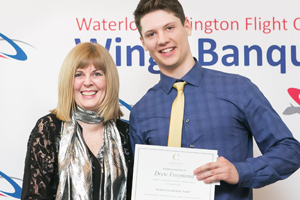 Faculty member Kerry Townson pays it forward
When Conestoga staff member Kerry Townson registered for her first year of university 40 years ago, she knew tuition would be a stretch – a $70 stretch, in fact. That was the shortfall in her account when she was called to meet with the dean on her first day of class.
"She asked me why I couldn't make the first payment," Kerry remembers, "and then she opened her purse and wrote me a personal cheque."
Kerry's never forgotten that moment or what it felt like to have someone offer a helping hand when she needed it most.
It's why she established Conestoga's Aviation Coordinators' Endowed Award — the program's first — to help students fulfill their dream of becoming a pilot.
The unique, two-year program is offered in collaboration with the Waterloo Wellington Flight Centre and Great Lakes Helicopter. Students earn their diploma and the flight hours required to undertake their commercial pilot licence test through Transport Canada. In addition to tuition, students are accountable for flight costs, which can run anywhere from $300 to $1,000 a flight. Over two years, those required training hours can add up to $70,000.
"The financial struggles many of our students face are absolutely phenomenal," explains Kerry. In her 12 years as program co-ordinator, she has seen countless students withdraw in order to earn the funds to continue. Without the required number of flight hours, they can't continue in the program or qualify to write their commercial exam.
She hopes the Aviation Coordinators' Endowed Award can make the difference between a student graduating or dropping out. "Whether the recipients are still flying or beginning their first job, every little bit helps. This might mean they can pay for one more flight that wasn't possible before."
Each year, students are nominated by faculty and flight centre instructors. Two exceptional candidates are ultimately selected by an independent committee of representatives from the college and flight centres to receive the $500 award. Kerry is continuing to invest annually to grow the endowment, now at about $20,000. Her goal is to support two Conestoga students in perpetuity using only the interest from the investment.
"I'm so excited to be able to do this and to see even more of our students graduate," she says. "I have such a strong connection to these young people. These are my kids and they deserve to succeed."
Helping Students Succeed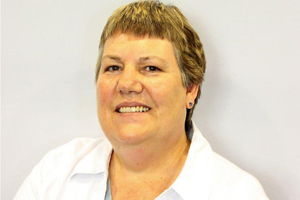 Helping students succeed is Kitty Runstedler's goal
Just two years after graduating, Kitty Runstedler knew that she wanted to be a part of the future of Conestoga College. The 1987 marketing graduate volunteered to assist with the alumni association and, later, the college's campus expansion fundraising campaign. Her efforts over the next 12 years earned her the ultimate recognition: a Conestoga job offer.
Now, nearly 20 years later, she's still helping to promote Conestoga to the local community as an employer relations consultant matching students in the college's technology programs with co-op employers.
"Applied learning is one of the things that makes Conestoga great," says Kitty. She and her colleagues help to oversee 66 co-op programs college-wide with two more currently pending approval and countless more in design.
Of the many rewarding aspects of her job, Kitty says the opportunity to help students gives her the most satisfaction. "I meet many students who are struggling financially and in urgent need of a job to help offset their expenses. Some tell me, 'If I can't get a co-op, I don't know if I can return.'"
"Hearing their stories makes me want to do more."
Kitty worked at Conestoga for less than a year when she was asked by a mentor to make her first donation. Ever year since, she has continued to make contributions by payroll deduction in support of the college's highest priority needs, including student financial aid. During Conestoga's 2010 Family Campaign, she volunteered to encourage other staff to join her in supporting programs and projects of their choosing.
"I tell them to think about how their gifts might help students. This is less about supporting the college as an institution and more about ensuring the success of our students," she explains. "These kids are trusting we will deliver."
Buoyed by donations from staff members like Kitty, Conestoga College is doing just that for more than 16,000 students a year.
Our partner on speed-dial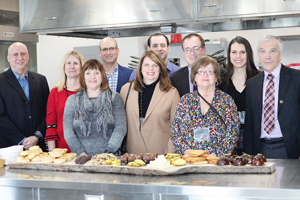 Flanagan Foodservice's latest gift creates Culinary Skills Lab
Brad Lomanto doesn't think twice about picking up the phone to ask Flanagan Foodservice for help.
"If I want to bring in a special ingredient, they're the folks I call. They're a community-minded business that I can rely on to make my job easier," says the executive chef of Conestoga's School of Hospitality & Culinary Arts.
When it comes to Conestoga's relationship with Flanagan, that's just the tip of the iceberg. For more than 20 years, the family-owned independent foodservice distributor — Canada's largest with more than 6,000 customers — has supported scholarships and awards and offered co-op opportunities for Conestoga students. Flanagan staff also serve on the school's program advisory committees.
In 2018, the company raised the bar even higher with a $100,000 gift to support the expansion of the John W. Tibbits campus in Waterloo. Conestoga named the Flanagan Foodservice Culinary Skills Lab in recognition of their contribution.
"Conestoga is producing the world's next group of top chefs and we are excited about the additional training tools that they now have to practise and hone their culinary techniques with this impressive new skills lab," says Dan Flanagan, Flanagan Foodservice CEO. "The impact of this organization on our community and on our family is significant. On behalf of our employees, and our family, we are grateful for the opportunity to be part of this transformative journey at Conestoga."
A neighbourhood showpiece with large windows overlooking University Avenue, the Flanagan lab includes restaurant-quality equipment and a fluid design to allow instructors to move about freely and support future chefs as they refine their culinary techniques.
In a recent lesson, for example, students learned how to butcher a chicken in the school's demonstration lab before moving into the Flanagan Foodservice Culinary Skills lab to practise the techniques over a four- or five-hour lab. Their new skills were put to the test during the second semester, when they served members of the public in Bloom, Conestoga's newly expanded, student-run restaurant.
"It's facilities like this that make our curriculum a stand-out," says Chef Lomanto of the lab, which welcomed its first classes in October 2018 and was officially unveiled at a February 2019 event. "We have state-of-the-art equipment in an accessible space where students can learn with one-on-one direction from their instructors."
"This is where tomorrow's chefs gain the skills employers want."
As many as 700 culinary students will benefit from the Flanagan laboratory every year.
Giving to change the world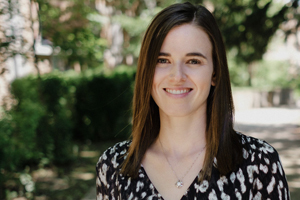 Alumni donors unite to support future women leaders
Jillian Harvey, a 2013 graduate of the Bachelor of Applied Technology - Architecture - Project and Facility Management (APFM) program, has this message for the women following her path: "You're smart, skilled, capable and about to change the world."
"And we've got your back."
Remembering what it felt like to be one of just seven women in her APFM class of 30, Jillian set out last year to rally her fellow female graduates to create a scholarship especially for upper-year female APFM students. By giving, they hoped to send a message of encouragement to female students underrepresented not just in the APFM program, but also in the industry as a whole.
"It can feel intimidating to walk into a meeting room or a construction site with few or even no women," says Jillian, a facilities coordinator at the University of Guelph and a student in the university's master of arts in leadership executive program. While completing three co-op placements in Alberta's oil and gas industry as a Conestoga student, she became very conscious of the gender imbalance: for every female professional, there were typically nine men.
She wants to see that change — and for Conestoga to play a leading role.
Last year, eight women APFM grads, including Jillian, donated a total of $800 to establish the Women of APFM Award at Conestoga. The inaugural scholarship was presented in 2018 to third-year APFM student Sarah Reynolds, who says she was humbled by both its intent and value.
"As a daughter of a female engineer who had to fight to be educated and prove her validity, this award hits close to home," she says. "Thank you for recognizing the unique challenges our gender faces and honouring our important contributions to the future success of this industry."
Jillian and her fellow donors are now reaching out to their networks to fund the second Women of APFM Award this fall. In time, they hope to support multiple students, who will help to pay it forward when they graduate.
"It's easy to think your donation won't make a difference," Jillian reflects, "but when combined with others it can expand exponentially and send a strong message of support and encouragement to the next generation."
She hopes the Class of 2019 is listening.
The power of philanthropy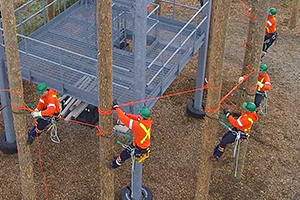 Gifts from Waterloo North Hydro spark student success
Nearly 30 years have passed since John Stephens graduated from Conestoga College's construction engineering program, but in some ways it feels like he never left.
As the vice president of operations for Waterloo North Hydro, he works alongside 36 fellow Conestoga alumni — 30 per cent of the company's workforce. This spring, he attended his first Conestoga award ceremony, meeting the four current recipients of Waterloo North Hydro's newly expanded scholarship program, two of whom also completed co-op job placements at the electricity distributor.
"We're proud of our partnership with Conestoga College," says John. "By supporting students financially and offering applied learning opportunities, we're educating the next generation of linespeople and setting them on the path to success."
In addition to student aid, Waterloo North Hydro also regularly makes gifts-in-kind to the college's powerline technician program, including trucks and other equipment to enrich student training opportunities at the 12,000-square-foot Ingersoll campus — the only facility of its kind in southwestern Ontario. All told, the utility has made contributions totalling more than $333,000 over the last nine years.
Many of the company's leadership and powerline staff also share their knowledge and expertise with faculty and students as program advisors.
"It's not been so long that I've forgotten what it's like to be a hardworking Conestoga student," says John, recalling the lifelong lessons he learned in the classroom and during a summer job spent pouring concrete on a construction site.
"Training for a skilled trade is tough, but it gets real the first time you step into a trench or a bucket. It's why we're so pleased to provide these opportunities to Conestoga students."
"Giving back is a cornerstone of our business."
Donor Testimonials