Student Impact Stories
Conestoga would like to recognize the support you have given through the words of our students. The messages below are from students whose lives have been personally touched by generous contributions from donors like you.

Alex Avery Quick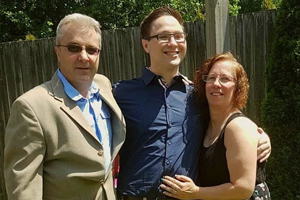 I am a recipient of an award through Conestoga and words themselves cannot express how grateful I am for the contributions, not only to myself, but also those before me.
As a first generation student, I honestly don't know how I would do it without the support of kind, generous individuals. People who understand the hardship endured by students in the pursuit of knowledge, who recognize that a helping hand can always be the one that picks someone up to heights they never thought possible.
Andrea D. Gilpin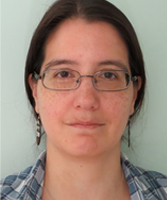 Machining has profoundly changed my life. Prior to this discovery I had no idea what I wanted to do. I did not seem to fit anywhere, at least in any of the traditional female occupations. A rare opportunity to train as a clock maker was offered to me in 2015. I accepted the job and was introduced to machining since a large part of the job required making custom replacement parts. I discovered that I really enjoyed it and was very good at it. Soon I realized that I should pursue this further.
Last fall, I moved to Kitchener from Ottawa to take the mechanical technician – tool maker program at Conestoga. Moving here has been expensive and tough, but it has been worth it. I have learned a lot about the trade and myself. Living with autism spectrum disorder is no longer a curse; it is actually a gift in this line of work. My strengths and abilities are praised. I finally feel a part of the world. The award I received was life changing.
Lisa Mungall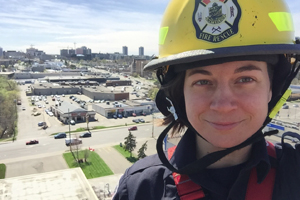 I went to high school in Guelph then straight into the geography program at the University of Waterloo. I completed the program and finished with an Honours Bachelor degree. I ran into some health problems throughout those four years and decided upon graduation that I would make it my full-time job to become healthy again. I was successful and decided to take my mission to the next level. I eventually became a personal trainer and group fitness instructor in yoga, cycle, aquatics, step aerobics and kickboxing. I worked at five gyms simultaneously for seven years.
Always thinking about my next move in life, I came into firefighting. I wanted a full-time job that was very physically demanding, but still wanted to help people and make an impact on lives that needed it. I decided that joining the fire service would be a good fit for me so I applied to Conestoga and was accepted. It has easily been one of the best decisions I've ever made. I loved every day of this program and am excited to see where it will lead me in my future career.
Thank you for helping to support my dream.
Ashka Parikh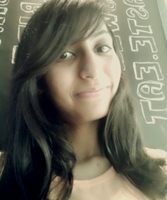 I come from a culture where girls are not treated equally. When I said that I wanted to come to Canada, with the exception of my parents, none of my family members supported me. They thought that because I am a girl I'm incapable of living on my own. This award proves them wrong and I feel proud because my father supported my decision and trusted me. When my parents learned of the award I received they were very happy. My father and I truly appreciate the honour of it and the financial aid.
I was not sure about Conestoga College, but I was told that it is one of the best colleges in Canada so I chose to study over here. I feel I made the correct decision. This college tries to help every student in every way possible and finds the hidden talents in people.
The award I received boosts my confidence and energy to work harder. It is with the support of people like you that I will do my best and represent the college in a positive way.
Coel Hofstetter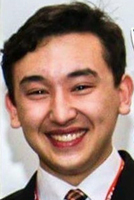 My goal is to live a life of happiness, healthiness and learning. I want to graduate from Conestoga and pursue a master's degree in engineering, and a master's degree in business and administration. I want to work somewhere that I want to go to every day. I want to have a loving and happy family. I want to continuously grow and learn. The reality is that I probably won't be able to achieve all these things, but having these goals in mind is a good thing. It directs how I make choices and always pushes me to achieve them.
I chose Conestoga because of how practical the courses are, and the opportunities it brings. With project-based learning, I'm able to see how the theory taught in class applies to my project class. I also chose Conestoga because it's a smaller school. I can make a difference through volunteering and see the impact it has. I can talk to my professors about the problems and concerns I have. I believe this was one of the best decisions I have ever made in my life.
I want to thank donors for assisting students. It is incredibly difficult for some of us to find the motivation to continue schooling, as the overall cost of tuition can be overwhelming. With this support, students can work less and put extra time into bettering the local and college community.
Lauren Delfgauw
Practical Nursing '19

Every day in Conestoga's Practical Nursing program, I am challenged by something new. Some days I struggle with finding confidence in myself; other days, time management is the issue. Mostly, it is the neverending fear that I am moving down the wrong path that scares me. Receiving an award gave me the confidence and strength I need to continue through the program, and helped me see that I am right where I need to be. For that, I will forever be grateful.