Student Impact Stories
Selina Mauro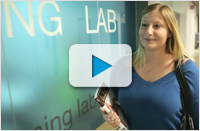 I would like to express my sincere gratitude to the donors that support Conestoga and its students. I know a lot of equipment I used in the lab while studying at the college was crucial to learning the necessary skills for my career.
I studied in the Hearing Instrument Specialist program and it changed my life. After completing my BSc Biology in university I felt lost, but following a campus tour at Conestoga I knew this is where I would like to study.
The program curriculum is all relevant to the field today and delivered by faculty who have been successfully working as Hearing Instrument Specialists. I also made excellent connections and currently work at the same company as one of my teachers. The internship portion of the program taught me valuable clinical skills and secured a job for me immediately after graduation.
I love my career as a Hearing Instrument Specialist. I could not be happier and look forward to going into work each day. I am thankful for the education I received at Conestoga College to make this all possible.
Cory Niereisel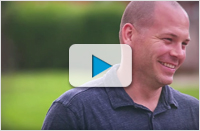 I am a licensed plumber and G2 certified gas fitter. My skilled trades journey started when I stumbled across a plumbing pre-apprenticeship info session on Conestoga's website shortly after being packaged-out of a previous career in the manufacturing sector.
I attended that session in spring 2010 and have never looked back. I was accepted into the tuition-free pre-apprenticeship program and qualified for the province's second career support which allowed me to begin learning a new trade and still provide for my young family. The faculty at the Waterloo campus is incredible and got me hooked on the trade from day one.
I finished top of my class and was instantly hired by a plumbing company. I completed my plumbing licence in 2015 and have since added the first two levels of gas fitter certification to complement it.
When I was down and a little bit lost, Conestoga was there with the perfect answer for me. I love what I do and my goal is to take this full circle and teach others or be an ambassador to the skilled trades that have provided so much for me and my boys.
Tarek Rahim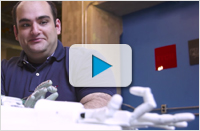 I was truly honoured to receive an Engineering Technology diploma bursary. Rewards like these ease the anxiety of student loans and motivate me to continue learning.
I always had a passion for electronics and engineering, but opted to major in biology and genetics. Job security in engineering was a big factor in that decision. To my surprise after graduating, there were far fewer employment opportunities in my field than anticipated. After working a few years as a cleaner in a hospital I felt like my life wasn't progressing. I made the decision to go back to school to follow my passion.
I am so glad I made that move. Recently, one of my professors hired me for my co-op term at his tech startup in Communitech. I am now developing software that most healthcare providers in the U.S. will use to order vaccines. It was always a goal of mine to have a career that would let me have a meaningful impact on society, and I cannot be more thrilled to do so.
My bursary enabled me to put in the extra hours that ultimately led me here. I cannot begin to express how grateful I am for the generosity. I promise to pass on the kind gesture to future students when I am financially able to.